Breedlove Foods, Inc. is served by a dedicated Board of Directors, comprised of recognized leaders in our community.
Their service, drive and spirit of stewardship underpin the ongoing development and mission of Breedlove.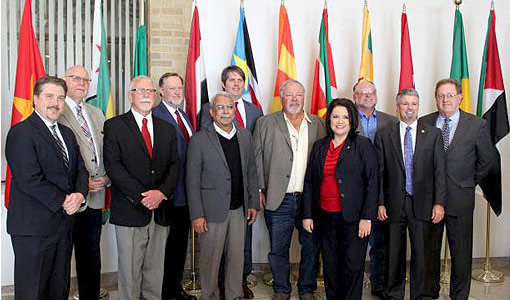 Pictured, left to right: Bill Lane (not a board member); Lon Miller; Sammy Biggers; Ambassador Tibor Nagy, Board Vice Chairperson; Dr. Sukant Misra; Tom Sell, Board Chairperson; Brad Bouma; Norma Ritz Johnson; Dr. Bud Johnston; and David Jones. Breedlove CEO Bill Miller is on the far right.
Officers
Tom Sell
Chairperson
Combest, Sell & Associates – Managing Partner
Tom Sell is the managing partner in Combest, Sell & Associates (CS&A), an agriculture-focused lobbying and consulting firm with offices in Lubbock, Texas and Washington, D.C.
Brad Bouma
Vice Chairperson
Select Milk Producers, Inc. – President
Fifth-generation dairy farmer Brad Bouma and wife Barb own diary operations in Texas, Ohio, and Indiana. In 2004, Brad and Barb established Legacy Farms, an open, dry lot dairy farm in Texas. Brad co-founded and serves as Chairman of the Board for Select Milk Producers, Inc., which launched a milk filtration system that led to the development of Core Power drinks and Fairlife Milk in partnership with Coca-Cola.
Members
Dr. Mike Ballou
Texas Tech University – Associate Professor: Ruminant Nutrition and Immunology
Michael Ballou, Ph.D. is a nutritional biologist and an associate professor with Tech's Department of Animal and Food Sciences. Dr. Ballou was named Associate Dean for Research in 2014 where he provides primary leadership for CASNR's graduate and research program development.
Sammy Biggers
RFS Financial Services 
Sammy Biggers has been in the financial services business for 41 years. He is a life member of the Million Dollar Round Table and a member of the South Plains Trust and Estate Council. Sammy works with individuals and small businesses in planning for insurance and retirement needs.
Dr. Andrew Black
Texas Hunger Initiative 
Dr. Andrew (Andy) Black is the Director of the Lubbock regional office of the Texas Hunger Initiative, a program sponsored by Baylor University that seeks to alleviate food insecurity by working simultaneously at the local, state, and federal levels to raise awareness, promote collaboration, facilitate public-private partnerships, inform policy and share research-informed best practices.
Dr. Alexandra Calle
Texas Tech University
Dr. Alexandra Calle is an expert in food safety and a research assistant professor in Texas Tech University's Department of Animal and Food Sciences. Dr. Calle has 20 years of experience in food safety and implementing, assessing, and managing food safety systems. Dr. Calle will advise Breedlove calling upon her experience and extensive training in food safety and Hazard Analysis and Critical Control Points, or HACCP, internationally.
Robert H. (Holly) Holder
Parkhill, Smith & Cooper 
Robert H. (Holly) Holder, PE, is a principal with Parkhill, Smith & Cooper, Inc. in Lubbock, Texas. Mr. Holder currently serves as PSC's Environmental Sector Director and oversees all of PSC's Texas and New Mexico sustainable Solid Waste Engineering Services from permitting to construction.
Norma Ritz Johnson
Lubbock Chamber of Commerce – Executive Vice President
Norma Ritz Johnson serves as the Executive Vice President on the Lubbock Chamber of Commerce where she is responsible for legislative and governmental relations as well as transportation, agriculture and health care.
Dr. Bud Johnston
Central Plains Veterinary – Veterinarian
Dr. Edward H. (Bud) Johnston is a mixed animal practitioner at Central Plains Veterinary Clinic in Plainview, Texas. After obtaining collegiate degrees from Tarleton State University and Texas A&M, Dr. Johnston graduated with his Doctor of Veterinary Medicine degree from A&M in 1981.
David Jones
City Bank – Executive Vice President 
David Jones serves as Executive Vice President of City Bank. David is an experienced commercial lender with over 30 years of senior banking management.
Lon Miller
South Plains Food Bank – Immediate Past Board Chair
Lon Miller began his career in the outdoor advertising and signage business. In the late 1980s, he started the first of six companies whose services included transporting cotton, renting cranes and repairing tools. Lon, now semi-retired, is heavily involved in volunteerism, including his service on the South Plains Food Bank Board of Directors.
Dr. Sukant Misra - Advisory Director
Texas Tech University – Associate Vice Provost for International Programs
Dr. Sukant Misra, Associate Vice Provost for International Programs at Texas Tech University, oversees the Office of International Affairs (OIA). Dr. Misra has experience in managing and coordinating many large, faculty-driven research programs and international initiatives and has many contacts at international institutions.
Ambassador Tibor P. Nagy Jr.
Director Emeritus
Former U.S.  Ambassador to Ethiopia and Guinea 
U.S. Department of State - Assistant Secretary, Bureau of African Affairs
Ambassador Tibor P. Nagy, Jr. serves as the Assistant Secretary of State for the Bureau of African Affairs. From 2003-2018, he served as the Vice Provost for International Affairs at Texas Tech University. Previously, he served as the U.S. Ambassador to Ethiopia from 1999-2002, and Ambassador to Guinea from 1996-99.